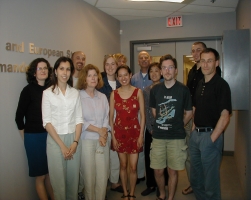 York University's Graduate Diploma in German and European Studies provides graduate students who are enrolled in an M.A. or Ph.D. program in such fields as International Business, Economics, Ethnology, Education, Environmental Studies, Film, History, Humanities, Law, Linguistics, Political Science, Sociology, and Social and Political Thought, the opportunity to:
Develop expertise in the interdisciplinary field of German and European Studies;
Exchange ideas with students and professors in the humanities, social sciences, and professional faculties; Receive mentoring in academic research and professional skills from leading scholars;
Obtain hands-on experience through study, research, or internships in Europe; Present their work at national and international conferences and research colloquia.
Students applying to the Graduate Diploma Program must be admitted to a relevant graduate program at York. In addition to completing relevant courses successfully, students must:
Write a major research paper, thesis, or dissertation on a topic relevant to the Centre's mandate;
Successfully complete a study period / research stay or an internship of at least one semester in Germany or in other European countries;
Participate in a Centre-affiliated research group or project, the Centre's annual Summer Seminar (conducted in German), and our Graduate Research Colloquium;
Develop and demonstrate knowledge of German appropriate to their specialty and level.
For more information, please contact ccges@yorku.ca