In conjunction with the Faculties of Graduate Studies at York University and the Universit de Montral, the Centre offers Canadas only Graduate Diplomas in German and European Studies. Our students come from disciplines across the social sciences and humanities, encompassing: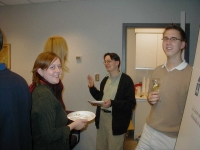 the traditional disciplines (including economics, history, linguistics and literature, philosophy, political science, sociology and anthropology),
business and professional programs (including the international MBA, law, and education, film and video), and
interdisciplinary programs (such as social and political thought, humanities, and environmental studies).
The common denominator uniting our students is their commitment to German and European Studies as an interdisciplinary focus that enriches and complements their work for their Masters or Doctoral degree.
As well, our students are attracted to the Centre by the expertise of our faculty members and by the mentoring and support they find at the Centre, including space to study and exchange ideas, and the opportunity to participate in ongoing research projects. A central aspect of the mentoring students receive includes working closely with them in preparing grant applications that will provide funding for their stay in Germany and allow them to organize and participate in conferences on both sides of the Atlantic.
Students who graduate with the Graduate Diploma in German and European Studies are prepared, on the basis of their knowledge, their language skills, and their international and intercultural experience, to enter careers in academe, government (including the Foreign Service), business, and journalism and the arts.
Graduate students at York whose area of research intersects with the Centre's mandate, but who are not interested in enrolling in the Graduate Diploma Program, may apply for Affiliate Graduate Student status with the Centre. This status will allow students to participate in the Centre's Graduate Research Colloquium, apply for several Centre awards/prizes and represent themselves as formal affiliates of CCGES.
Current Graduate Diploma & Affiliated Graduate Students